21 August 2023
BPC's Morore Hodges-Tuhakaraina wins Apprentice of the Year award
Congratulations to Brian Perry Civil's Morore (Mo) Hodges-Tuhakaraina for winning Apprentice of the Year at the 2023 Hynds CCNZ Waikato Awards.
"We are fortunate that Morore has chosen our industry as his career path," the judges said. "Not only is he excelling in his study, acting as foreman at times on site, and becoming a role model for his family and community, he is also studying part time for a double major in Business Management and Project and Supply Chain Management."
Other BPC team members selected as finalists were William Adams in the Emerging Leader category, Tim Bertram for Engineer of the Year, and Clayton Kruger for Outstanding Individual of the Year.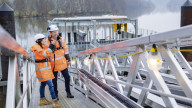 What's next for you?
Join us and we'll get you all set for what's next – from the career you want to the lifestyle you're dreaming of. The size and scale of our operations means we can offer an impressive range of opportunities across the country.