Better connections and faster commutes. Energy and power to drive economic growth.
We're helping build a better New Zealand by enhancing and extending the transport infrastructure, remediating the environment and improving the full range of utilities including energy and the three waters: potable water, stormwater and wastewater.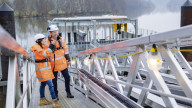 What's next for you?
Join us and we'll get you all set for what's next – from the career you want to the lifestyle you're dreaming of. The size and scale of our operations means we can offer an impressive range of opportunities across the country.