Our scale means we offer diverse, exciting careers across New Zealand. We have the power of three major brands: Fletcher Construction, Higgins and Brian Perry Civil.
Our people have endless opportunities within the Fletcher family. It is very important to us that every single person at Fletcher Construction has the chance to grow their career. To do this, we offer a wide range of in-house programmes. We also have a very generous Employee Educational Fund that can be accessed by all staff members, and their families, for external training.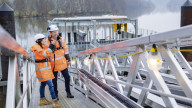 What's next for you?
Join us and we'll get you all set for what's next – from the career you want to the lifestyle you're dreaming of. The size and scale of our operations means we can offer an impressive range of opportunities across the country.