Kaiwera Downs Stage One wind farm now operational
Higgins is very proud to have helped build stage one of the Kaiwera Downs wind farm which has just started operating.
Read more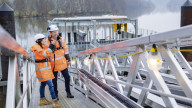 What's next for you?
Join us and we'll get you all set for what's next – from the career you want to the lifestyle you're dreaming of. The size and scale of our operations means we can offer an impressive range of opportunities across the country.