Everything we do is for our communities and the world around us. Our purpose is to make places better for generations to come, and that's all about serving people and the environment.
With committed teams across New Zealand and the Pacific, we are able to have wide-ranging positive impacts. Our teams contribute by helping out on grassroots projects right through to ensuring the success of our organisation-wide strategies including Fletcher Construction's ambitious carbon-reduction targets.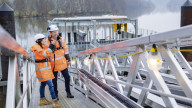 What's next for you?
Join us and we'll get you all set for what's next – from the career you want to the lifestyle you're dreaming of. The size and scale of our operations means we can offer an impressive range of opportunities across the country.