It doesn't matter if you come from ten minutes up the road or ten thousand kilometers around the world.
The drive to create, deliver and enjoy what's next is what defines us at Fletcher Construction. We succeed as a team because of the power of our individuals.

Adam Plimmer
Regional Manager
Adam Plimmer
Regional Manager
Adam Plimmer knows how to make an entrance. When he arrived in New Zealand from his native UK, he didn't just fly here. Instead, he and his Kiwi girlfriend (now wife) drove as far as they could in his 1988 Land Rover. It was a fun way to travel, and it also showed his new colleagues at Hamilton's Brian Perry Civil that he was ready for a Kiwi way of life.
Since arriving, Adam's found New Zealand's the perfect place to raise his young family. "We have a small farm with motorbikes, tractors, native bush, bonfires. It's like adventure HQ for the kids," he says. Adam's four boys aren't the only ones having all the fun either. Adam arrived with one Land Rover, but has since added another 10 to his collection, along with three military vehicles and a 1968 Bedford Fire Truck.
He says the biggest difference between New Zealand and the UK is the Kiwi pioneering spirit. "People are really innovative here, the ability for people to build things themselves, help their neighbours out, all that kind of stuff - to me that's proper New Zealand," he says.
Adam is a Regional Manager for Brian Perry Civil and he's making sure the team is bringing that pioneering spirit to work every day. "This is a business that truly looks after its people, and I think it's important we push people out of their comfort zone to achieve things they didn't think were possible."

Working on the Waikato expressway was the job of a lifetime for surveyor Bayley Smith. The project was decades in the making and came to the close in July 2022 with delivery of the Hamilton section where Bayley was working.

Bayley started her career as a graduate surveyor with Fletcher Construction, working within the CityEdge Alliance that delivered the final stage of the expressway. One of her favourite parts of the role was bringing drones into the project. When Bayley started, the team was regularly hiring drone pilots to do survey work. She spotted an opportunity to expand her skillset and the team purchased Bayley a drone of her own. "It's paid for itself, many times over, and I'm getting more confident using it."

Now the expressway's wrapped up, Bayley's taking her career to the next level in a newly-created role with our Engineering Services team.

Francis Swanney-Fetalaiga
Project Engineer
Francis Swanney-Fetalaiga
Project Engineer
At Fletcher Construction, we're not just proud of what we do, we're proud of who we are. For Project Engineer Francis Swanney-Fetalaiga, that means huge pride in his Samoan culture.
"I'm Samoan, but I'm also a South Aucklander. That's part of my culture as well. Everywhere I go, I represent where I'm from." Francis has harnessed this pride to support other Māori and Pasifika engineers through their study and careers.

Family is another huge part of Francis' identity. His parents immigrated from Samoa and he's proud to be the first in his family to finish university. "My siblings didn't finish because they wanted to help out my parents and get jobs. I was the last of five children, so they all supported me. There were papers I failed but I kept trying, and that was due to my parents. I didn't want to let them down. They've been through so many struggles and it's just made me who I am."

He's bringing that love of family to work with him at Higgins, where he started as a graduate engineer. "My workmates are just like whānau. I care about them like brothers and sisters. My job as an engineer is all about working together. It's all about the team."

Richard Rakovics
Civils & Utilities Manager
Richard Rakovics
Civils & Utilities Manager
When Richard Rakovics first arrived in New Zealand, he quickly decided that it wasn't for him and headed home to Europe. But then he found himself homesick … for Aotearoa.
"I missed the openness, the greenery, being on the beach, the weather. I had to go away from New Zealand to appreciate it fully," he says.
A few months later the Fletcher Construction Project Manager was back on our shores, and hasn't looked back.

It's not just the Kiwi lifestyle he's loving, it's the work opportunities he's had here. Richard believes he's getting opportunities at Fletcher Construction that he wouldn't get elsewhere. "In New Zealand, you can achieve your goals much faster than in other countries. Fletcher Construction in particular gives you the opportunity to progress. If the company sees your potential, they'll give you opportunities to prove yourself. Europe is more traditional - you have to do your time to reach certain positions."

But that being said, Richard says the scale of Fletcher Construction means it still feels world class. "Working here, you get the feeling you're working for an organisation that could operate anywhere in the world."

Zane Ape-Esera
Site Manager
Zane Ape-Esera
Site Manager
The New Zealand International Convention Centre (NZICC) project provides plenty of challenges for the Fletcher Construction team working there. Site manager Zane Ape-Esera wouldn't have it any other way.
"There's no other project where you can get the breadth of knowledge and experience that the NZICC provides," he says.
"The project challenges us on a daily basis and encourages us to continuously think outside the square, and I'm incredibly grateful for the opportunity to be challenged in that way and gain valuable experience to grow my career."

For Zane, the project is all about teamwork. "There's a whakatauki about collaboration: 'Ehara taku toa i te toa takitahi, engari he toa takitini. My successes are not mine alone - they are ours.' The greatest successes we have are through our people and being Better Together which is one of our values. It has certainly been a great team effort to get us to this point."

Matt Zame
Project Director
Matt Zame
Project Director
With a CV that traverses all engineering disciplines and most of the North Island's geography, Construction Manager Matt Zame's career is evidence of the diverse opportunities available within Fletcher.
One of the company's first summer interns, Matt cut his teeth on seismic strengthening projects at the Karapiro Dam, Auckland Harbour Bridge and Newmarket Viaduct before a stint at North Port Phase 1 - Fletcher's first deep water port project. The obligatory UK OE followed, where he deepened his foundations expertise with work for specialist piling contractors Skanska Cementation and Bachy Soletanche, plus some design with consultants Arup.
The return home coincided with Matt's first project management role on the Kauri Point Wharf for the Royal NZ Navy, which laid the groundwork for his biggest role yet: managing the piling and ground improvements works for the Northern Busway.
The opportunity to deliver a major project in your home town was too good to pass up, so when Fletcher was awarded the Tauranga Harbour Link project, Matt shifted down country to manage the piling for this landmark project. Tauranga's sunnier climes were one benefit, but equally satisfying was the opportunity to apply his learnings from the UK. The bentonite piling system used at THL had not been used in New Zealand before, and Matt's overseas experience was integral to delivering the project successfully. A decade later, THL remains Matt's favourite project.

Helen Sutherland
Pavement Quality Engineer
Helen Sutherland
Pavement Quality Engineer
Helen Sutherland moved to Aotearoa as a young girl when her father took a Project Manager job at Fletcher Construction. She remembers growing up with conversations over dinner about construction.
"We often talked about the exciting projects Dad was working on and I always helped out with the DIY at home," she says.
"The projects I remember him working on include the Trentham Computer Centre, National Library of NZ, Wellington Hospital and a pair of external seismic strengthening walls on the Wellington Telephone Exchange.
"Regrettably, I didn't get into construction until much later in my career. I started out in Information Technology, but in 2012, while working for the Ministry of Justice, my role as Senior Business Advisor was disestablished along with so many others just before Christmas. I then decided to get a summer job as a labourer on a building site while looking for work."
The drastic change in direction baffled many of Helen's friends, but she thrived on site, doing a lot of things already learned from her Dad. "I absolutely loved it," she says.
After a few months of following her dream on-site, Helen went back to the IT field to help pay the bills, but constantly thought about how she could get back into construction. This led her to study for her National Certificate in Occupational Health and Safety and she started a Diploma in Construction Management.
In 2015, Helen finally took a leap of faith applying for a job with Fletcher Construction as an HSEQ Administrator on a roading project and she hasn't looked back.
"I'm glad I pursued this path. I genuinely feel it's where I belong. It's an exciting and challenging project and I'm part of a wonderful team."

Tamzin Letele
Senior Commercial Manager
Tamzin Letele
Senior Commercial Manager
'Young Achiever' is a fitting accolade for Tamzin Letele, a talented leader on major commercial construction projects and a strong, passionate role model to other women and Pasifika people in the construction industry.
In 2022, Tamzin was named the NZ Property Council's 'Young Achiever of the Year'. As well as celebrating her contribution to the industry across major commercial, residential regeneration and development projects, the award recognised her outstanding commitment to grow and develop the people around her and actively give back to her community.
Tamzin is a Pasifika mother-of-three, and a quantity surveyor with more than 15 years' commercial experience.
She first joined Fletcher Construction as a cadet, then returned for a time at the start of the New Zealand International Convention Centre (NZICC) project. She's now with us for her third stint, this time as a Commercial Manager for Buildings where she oversees the head claim and reinstatement works for the NZICC.
Alongside her busy role, Tamzin makes time to support the growth and development of construction industry up-and-comers, and continues to be an active mentor to Māori and Pasifika women. Having experienced first-hand the challenges that come with being a minority on-site, she says it's always been her goal to support and guide those from diverse and challenging backgrounds.
A founding member of the Property Council of New Zealand Diversity Committee, Tamzin is committed to supporting diversity growth within the industry to adequately represent the diversity of Aotearoa. She is pleased to see progress being made around acceptance and inclusion since she started in the industry.
"We now have over 50 per cent wāhine across the NZICC commercial site team, that's a career-defining moment," Tamzin says.
Throughout her career, Tamzin has been keenly aware of areas to further develop herself to maximise her role performance and contribution. She holds a Bachelor of Construction and a Graduate Certificate of Social Impact. Tamzin has also completed Social Return on Investment Practitioner training, along with being a mediation teacher and learning the Samoan language. She is a serial house-renovator, fervent about sustainability and believes in actively giving back to her community.

Glenn Browne
Construction Supervisor
Glenn Browne
Construction Supervisor
Fiji-based Glenn Browne has enjoyed a varied and fulfilling career with Fletcher Construction in the Pacific.
Born and bred in Waikato, Glenn jumped at the opportunity to head overseas at 21 to join the team. His first role was working on the FFA Conference Centre in the Solomon Islands as a carpenter supervisor.
Thirty years and many projects later, he continues to lead major commercial projects for Fletcher Construction South Pacific. He is currently the construction site manager for the $50 million refurbishment of the Western Resort on Denarau in Fiji.
Glenn also oversaw construction of the $10 million Toyota Fiji dealership which opened in January 2023. Situated near Nadi International Airport, it's one of the largest car dealerships in Fiji and led the way with environmentally-sound building practices.
"Environmental principles underpinned the building's design and Fletcher Construction Fiji showed industry leadership by ensuring our environmental policies were central to all parts of the construction," he says.
Glenn says he has never looked back since starting his career in the Pacific.
"If I hadn't been here, I wouldn't have been exposed to such a broad scope of work and gained the depth of experience so early on. I've enjoyed such challenging and varied commercial and residential projects," he says.
"You hold a lot of pride working for Fletcher Construction in the Pacific. We have a strong reputation for our high quality of work and expertise and the support here is amazing. Nothing on-site is a problem and we are well-connected to our colleagues in New Zealand. Overall, I've enjoyed great experiences, projects and people."

Borana Rabona
Estimating Manager
Borana Rabona
Estimating Manager
Thirst for challenge is what keeps estimating manager Borana Rabona so satisfied in his job with Fletcher Construction South Pacific.
Based in the Fletcher Morobe Construction office in Port Moresby, Papua New Guinea, Borana leads a team responsible for the cost estimations on all Fletcher Construction projects in the region, from small jobs through to large commercial projects.
Fletcher Construction South Pacific is where Borana's successful career began.
Upon graduation from the Papua New Guinea University of Technology, where he studied construction management, he joined FC as a junior estimator at the age of 25.
After a decade, he left for a series of jobs out in the field where he gained further industry experience as a cost control engineer.
In 2020, he returned to lead FCC South Pacific's estimating team. Borana says Fletcher's leading-edge technology played a big part in attracting him back.
"The estimating software makes the work exciting, as well as the wide range of projects we work on," Borana says.
The Fletcher Morobe Construction office employs approximately 40 people at the head office and 600 to 700 people on their construction sites, and continues to grow.
"I love the challenges we face, and working in with others on our large projects," he says.
A highlight project was building the Era Dorina Stage 3 Apartment in Port Moresby in 2007, a job for which Borana was the contract administrator. "I enjoyed this project so much because it was a design and construct project and we managed it so well that our built cost and the budget cost were the same," he says.
Borana says he is proud of the career development he has enjoyed during his time with Fletcher Construction.
Outside work, he enjoys investing his time with his family, friends and his church.

Peter Capilitan
Specialist Operator
Peter Capilitan
Specialist Operator
When Peter Capilitan arrived from the Philippines in 2018, his surveying qualification wasn't recognised in New Zealand. Unable to work in his chosen field, he took a role with Higgins as a grader operator.
Last year, his team encouraged him to use the Targeted Training and Apprenticeship Fund (TTAF) to pay for a surveying qualification that would be recognised in New Zealand. He's rightfully very proud of his achievement!
Fletcher Construction Early in Career Programme Lead Sarah McKenzie made inquiries to help set Peter up with Connexis. "Not only has he been motivated to persevere despite English being his second language, he has really demonstrated Fletcher Values of Better Together and Being Bold."
Peter says getting the qualification helped boost his career and provides a significant advantage in future endeavours. "I am beyond blessed with the opportunities I've been given to reach my dream of becoming a surveyor. I'm ready for more projects."
As TTAF is no longer available, our people can access the Fletcher Building Employee Educational Fund (EEF), which helps fund the cost of tuition and development programmes for career-related studies.

Jacob Walmsley
Project Engineer
Jacob Walmsley
Project Engineer
Jacob's gone from being a hammerhand to one of our best young engineers.
As a Project Engineer, he demonstrates where a rewarding career in construction can take you when you embrace opportunities and put in the mahi to advance.
Jacob got his first taste of the construction industry at 18 when he was assigned, through a labour hire firm, as a labourer on the Majestic Centre project for Brian Perry Civil.
Recognising his enthusiasm and motivation, the site foreman recommended he apply for an engineering cadetship.
Now, he's a project engineer in charge of the $7M Taranaki St Pump Station project, leading his team working on a tight and challenging Wellington CBD site adjacent to a busy intersection.
It's a tricky project in a highly visible location which speaks to the high regard BPC's leadership have in Jacob's abilities.
In another accolade, in 2022 Jacob was a finalist for the Personal Improvement Award in this year's Civil Construction NZ National Awards.
During his time with BPC, he has completed thirty training courses, including his Diploma of Civil Engineering, having gained a wide range of practical onsite experience along the way.
Jacob says grateful for the way Fletcher Construction has supported his committed to professional development.

Levi Muller
Engineering Cadet
Levi Muller
Engineering Cadet
If you want to become an engineer, we can help you learn while you're on the job through a cadetship. That support could help you earn a Diploma in Engineering – or even a qualification in Quantity Surveying or Construction Management.
You'd be joining other cadets like Levi Muller who recently joined us at Higgins as an Engineering Cadet. Before leaving school, Levi's school approached our Early in Career Programme Lead Sarah McKenzie who organised a one-to-one visit at one of our projects where he was introduced to Tristan Paget, a Project Manager who also followed this pathway. This ignited a genuine spark in Levi and by showing his engagement and motivation, he was welcomed to the Higgins team in February after leaving school.
Levi's been working with the team on the Rangiuru Business Park Interchange and is also studying for his Diploma in Engineering part time. This requires him to attend polytech one day a week which is supported by Higgins. He's even being paid to attend tech, and accessing to our Employee Educational Fund for course costs. Higgins also facilitates a guided programme that enables Levi to learn on the job, whilst contributing to a high-profile project in his hometown.
So far, Levi's loving his new role. "It's really hard to put a pinpoint on what I enjoy the most because I just love my job so much, going to work and seeing my team every day is a highlight."
If you're keen to join the Green Team like Levi, contact LearningDevelopment@fcc.co.nz.

Kylie Wech
Project Manager
Kylie Wech
Project Manager
When Kylie Wech started working in Civil Construction, she had a role in administration – she was the 'tea lady' as she puts it. What Kylie didn't realise, was that role would set her up for a lifetime career in civil construction. "In the beginning, I saw the role as a means to an end. Very quickly, I decided I needed to turn my job into a career."
Kylie's made that career happen by working her way up through the industry, trying her hand at a number of different roles, finally landing herself as one of our highly-respected Project Managers.
She's a big advocate for women in the industry, and says anyone keen on trying out civils should give it a go. "This industry has given me so many opportunities to try different avenues and pathways. The civil infrastructure industry has so many options, it will adapt to your needs as you adapt to your role."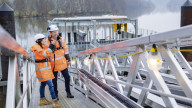 What's next for you?
Join us and we'll get you all set for what's next – from the career you want to the lifestyle you're dreaming of. The size and scale of our operations means we can offer an impressive range of opportunities across the country.