Our purpose is to make places better for generations to come.
Fletcher Construction is a team of 3700 people working across three brands: Fletcher Construction, Higgins and Brian Perry Civil.
Since 1909 our people have planned, built, maintained, and managed significant national infrastructure for the benefit of communities in New Zealand and the South Pacific. We have safety at our core and invest in innovation for the future.
Fletcher Construction makes up the Construction division of Fletcher Building. We are joined by five other divisions: Building Products, Concrete, Distribution, Australia, and Residential & Development.
Our history
Our roots go back to James Fletcher building a house with Albert Morris in Dunedin in 1909. Fletcher Bros Ltd was formed in 1915 and the next year secured the Auckland City markets contract.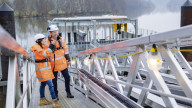 What's next for you?
Join us and we'll get you all set for what's next – from the career you want to the lifestyle you're dreaming of. The size and scale of our operations means we can offer an impressive range of opportunities across the country.