Our values are the foundation for the way we work.
We are unified by these beliefs and commitments. They shape our attitudes and behaviours within our teams, with our customers and with the wider community.
Protect
We believe all injuries are preventable
We never walk past – we speak up and take action
We celebrate the good stuff
We care for each other
Customer Leading
We put ourselves in our customers shoes
We anticipate and create solutions
We make it easy
We bring the wow!
Be Bold
We are curious
We have a go!
We strive for growth
We find better ways
Better Together
We play fair
We are honest and transparent
We team up to achieve more
We learn from each other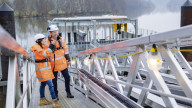 What's next for you?
Join us and we'll get you all set for what's next – from the career you want to the lifestyle you're dreaming of. The size and scale of our operations means we can offer an impressive range of opportunities across the country.