23 October 2023
Pipe installation at Kaitoke
Brian Perry Civil has completed construction of the concrete deck to the new network arch bridge at Kaitoke and is now installing the pipe.
Project Manager Jack Gillard says the bracing at the top of the arch prevents the pipe being landed directly onto the bridge deck. "The site team is landing the 5,000kg pipe lengths at one end of the bridge, and then winching them along the deck and into position."
The new bridge is being delivered for Wellington Water. The existing bridge, which delivers half of Wellington's water supply, is seismically compromised. It connects the capital's primary water source, Te Awa Kairangi (Hutt River), to the Te Marua Water Treatment Plant in Upper Hutt.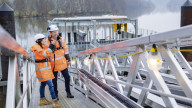 What's next for you?
Join us and we'll get you all set for what's next – from the career you want to the lifestyle you're dreaming of. The size and scale of our operations means we can offer an impressive range of opportunities across the country.