4 September 2023
Taking shape – Better together
Our Higgins Bay of Plenty team recently hit a key milestone on the Rangiuru Business Park Interchange project with a major bridge beam installation. The Interchange is is part 35-hectare stage one Rangiuru Business Park development, adjacent to SH2 Tauranga Eastern Link Toll Road near Te Puke.
The team started the installation with the help of their friends at Brian Perry Civil. The beams are 1525mm deep Super-T concrete beams, which are 33.1 meters long and weigh approximately 62 tonnes each. Due to the site configuration, a tandem crane lift was required consisting of a 300 and 350-tonne mobile crane.
Higgins is utilising the Fletcher Building supply chain with BPC for bridge piling works and the bridge structure, Fletcher Construction Engineering Services for surveying and temporary works, as well as material supplies from Firth Concrete and Humes.
Another great example of working 'Better Together'!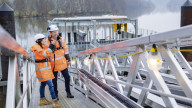 What's next for you?
Join us and we'll get you all set for what's next – from the career you want to the lifestyle you're dreaming of. The size and scale of our operations means we can offer an impressive range of opportunities across the country.